Volunteer
OCEF Needs Volunteers!
Would you like to support OCEF by volunteering some of your time? Here are a few ways you can help:
Dinner on Main – September 27th – Can you help solicit and gather silent auction items? This will provide items to support OCEF's fundraising goal!
Ford Drive 4 UR Community – Saturday, May11th – We need lots of volunteers to help during this fun day!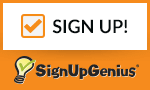 Trivia Night – This is such a fun evening! Come to volunteer and enjoy the festivities!
Development Committee – We would love your input and support during our monthly Development Committee meetings of the board. These meetings primarily focus on our fundraising goals and activities for the year.
Third Party Fundraisers – Ask Debbie Nichols, Director of Development, for ideas on how you can raise money for OCEF!
Contact admin@ocef.info for more information on volunteering!